MODEL IS NOW IN PRIVATE CHAT.
Ms_Tomorrow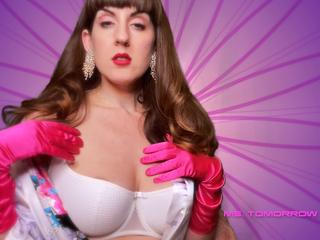 Age:
Build:
Hair:
Ethnicity:
Orientation:
Languages:
Minutes live:
33
petite
brunette
white
bi
English
4957
Turn ons:
OBEDIENCE. EAGERNESS. MANNERS. PROTOCOL. Femdom & Fetish. I love being in charge. I love unlocking a submissive`s potential. I love seeing them fall under My spell, handing over their warm, beating hearts, as I bewitch their brains & make them Mine. And, surprise! I love getting paid for it
Turn offs:
Do not bark orders at Me. I do not switch. Switching is a turn off. I will not sub for you, or get naked for you. I also abhor pet names, misogyny, outdated gender roles, race play, & wife-hate.
About me:
I`m an American Milf Domme specializing in humiliation, degradation, feminization, & foot domination. I`m an emotional sadist who loves to collect cucks of all genders.